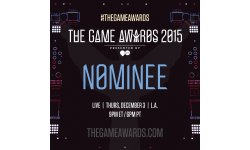 The Game Awards 2015 : et les nommés sont...
par Auxance M.
Les organisateurs des Game Awards 2015 ont dévoilé la liste des jeux retenus pour les différents trophées à rafler début décembre.
Si les occasions de remettre des récompenses au jeu vidéo sont nombreuses, les Game Awards sont assurément l'une des cérémonies les plus suivies et les plus reconnues.
L'édition 2015 des TGA se tiendra le 3 décembre, avec une soirée qui sera aussi riche en révélations et en annonces, mais nous connaissons déjà les différents candidats potentiels à l'obtention des différents trophées. Les nommés ont été choisis par un jury de journalistes internationaux, parmi une sélection de titres qui sont parus ou paraîtront avant le 24 novembre 2015. À noter la belle présence de The Witcher 3: Wild Hunt et Metal Gear Solid V: The Phantom Pain, avec respectivement sept et cinq récompenses possibles, et de Warner Bros. Interactive, dont les productions pourront obtenir jusqu'à onze trophées.
Jeu de l'année
Bloodborne (Sony Computer Entertainment, From Software)
Fallout 4 (Bethesda Softworks, Bethesda Game Studios)
Metal Gear Solid V: The Phantom Pain (Konami, Kojima Productions)
Super Mario Maker (Nintendo, Nintendo EAD Group No. 4)
The Witcher 3: Wild Hunt (Warner Bros., CD Projekt RED)
Développeur de l'année
Bethesda Game Studios
CD Projekt RED
From Software
Kojima Productions
Nintendo
Meilleur jeu indépendant
Axiom Verge (Tom Happ)
Her Story (Sam Barlow)
Ori and the Blind Forest (Moon Studios)
Rocket League (Psyonix)
Undertale (Tobyfox)
Meilleur jeu mobile
Downwell (Devolver Digital, Moppin)
Fallout Shelter (Bethesdsa Softworks, Bethesda Game Studios, Behaviour Interactive)
Lara Croft GO (Square Enix, Square Enix Montreal)
Monster Hunter 4 Ultimate (Capcom)
Pac-Man 256 (Bandai Namco, Hipster Whale)
Meilleur narration
Her Story (Sam Barlow)
Life is Strange (Square Enix, Dontnod Entertainment)
Tales from the Borderlands (TellTale Games)
The Witcher 3: Wild Hunt (Warner Bros., CD Projekt RED)
Until Dawn (Sony Computer Entertainment, Supermassive Games)
Meilleur bande-son
Fallout 4 (Bethesda Softworks, Bethesda Game Studios)
Halo 5: Guardians (Microsoft Studios, 343 Industries)
Metal Gear Solid V: The Phantom Pain (Konami, Kojima Productions)
Ori and the Blind Forest (Microsoft Studios, Moon Studios)
The Witcher 3: Wild Hunt (Warner Bros., CD Projekt RED)
Meilleur performance d'acteur
Ashly Burch en tant que Chloe Price (Life is Strange)
Camilla Luddington en tant que Lara Croft (Rise of the Tomb Raider)
Doug Cockle en tant que Geralt (The Witcher 3: Wild Hunt)
Mark Hamill en tant que Joker (Batman: Arkham Knight)
Viva Seifert (Her Story)
Meilleur jeu original
Cibele (Nina Freeman)
Her Story (Sam Barlow)
Life is Strange (Square Enix, Dontnod Entertainment)
Sunset (Tale of Tales)
Undertale (Tobyfox)
Meilleur jeu de tir
Call of Duty: Black Ops III (Activision, Treyarch)
Destiny: The Taken King (Activision, Bungie)
Halo 5: Guardians (Microsoft Studios, 343 Industries)
Splatoon (Nintendo, Nintendo EAD Group No. 2)
Star Wars Battlefront (EA, DICE)
Meilleur jeu action/aventure
Assassin's Creed Syndicate (Ubisoft, Ubisoft Quebec)
Batman: Arkham Knight (Warner Bros., Rocksteady Studios)
Metal Gear Solid V: The Phantom Pain (Konami, Kojima Productions)
Ori and the Blind Forest (Microsoft Studios, Moon Studios)
Rise of the Tomb Raider (Microsoft Studios, Crystal Dynamics)
Meilleur jeu de rôle
Bloodborne (Sony Computer Entertainment, From Software)
Fallout 4 (Bethesda Softworks, Bethesda Game Studios)
Pillars of Eternity (Paradox Interactive, Obsidian Entertainment)
The Witcher 3: Wild Hunt (Warner Bros., CD Projekt RED)
Undertale (Tobyfox)
Meilleur jeu de combat
Guilty Gear Xrd: Sign (Aksys Games, Arc System Works)
Mortal Kombat X (Warner Bros., NetherRealm Studios)
Rise of Incarnates (Bandai Namco)
Rising Thunder (Radiant Entertainment)
Meilleur jeu familial
Disney Infinity 3.0 (Disney Interactive Studios, Avalanche Studios)
LEGO Dimensions (Warner Bros., Traveller's Tales)
Skylanders: Superchargers (Activision, Beenox Studios, Vicarious Visions)
Splatoon (Nintendo, Nintendo EAD Group No. 2)
Super Mario Maker (Nintendo, Nintendo EAD Group No. 4)
Meilleur jeu de sport/course
FIFA 16 (EA, EA Canada)
Forza Motorsport 6 (Microsoft Studios, Turn 10 Studios)
NBA 2K16 (2K Sports, Visual Concepts)
Pro Evolution Soccer 2016 (Konami, PES Productions)
Rocket League (Psyonix)
Meilleur jeu multijoueur
Call of Duty: Black Ops III (Activision, Treyarch)
Destiny: The Taken King (Activision, Bungie)
Halo 5: Guardians (Microsoft Studios, 343 Industries)
Rocket League (Psyonix)
Splatoon (Nintendo, Nintendo EAD Group No. 2)
Meilleure direction artistique
Batman: Arkham Knight (Warner Bros., Rocksteady Studios)
Bloodborne (Sony Computer Entertainment, From Software)
Metal Gear Solid V: The Phantom Pain (Konami, Kojima Productions)
Ori and the Blind Forest (Microsoft Studios, Moon Studios)
The Witcher 3: Wild Hunt (Warner Bros., CD Projekt RED)
Jeu eSport de l'année
Call of Duty: Advanced Warfare (Activision, Sledgehammer Games)
Counter-Strike: Global Offensive (Valve)
DOTA 2 (Valve)
Hearthstone (Blizzard Entertainment)
League of Legends (Riot Games)
Meilleur création de fan
Grand Theft Auto V – Targets (Hoodoo Operator)
Portal Stories: Mel (Prism Studios)
Real GTA (Corridor Digital)
Twitch Plays Dark Souls (Twitch Community)
Joueur tendance
Christopher "Montecristo" Mykles
Greg Miller
Markiplier
Pewdiepie
Total Biscuit
Équipe eSport de l'année
Evil Geniuses
Fnatic
Optic Gaming
SK Telecom T1
Team Solomid
Joueur eSport de l'année
Kenney "Kenneys" Schrub (Counter-Strike: Global Offensive, Team EnVyUs)
Lee "Faker" Sang-Hyeok (League of Legends, SK Telecom T1)
Olof "Olofmeister" Kajbjer (Counter-Strike: Global Offensive, Fnatic)
Peter "PPD" Dager (DOTA 2, Evil Geniuses)
Syed Sumail "SUMA1L" Hassan (DOTA 2, Evil Geniuses)
Jeu le plus attendu
Horizon: Zero Dawn (Sony Computer Entertainment, Guerrilla Games)
No Man's Sky (Hello Games)
Quantum Break (Microsoft, Remedy Entertainment)
The Last Guardian (Sony Computer Entertainment, genDesign)
Uncharted 4: A Thief's End (Sony Computer Entertainment, Naughty Dog)