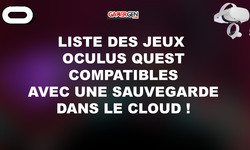 Oculus Quest 2 : la liste des jeux compatibles avec le cloud-saving (23 décembre 2021)
par Eric de Brocart
La synchronisation des sauvegardes de nos jeux vient enfin d'être mise en place par Oculus et même si cela coince encore un peu, la liste des titres compatibles est quand même énorme.
Un des problèmes récurrents chez Oculus, et ce depuis la sortie des tous premiers casques (GearVR, Rift CV1...) était l'absence de cloud-saving pour les jeux. Jusqu'à présent, cela voulait dire que si vous effaciez un jeu, deviez réinitialiser votre machine ou encore que vous vouliez y jouer à partir d'un autre casque connecté sur votre compte, vous perdiez toute la progression et les sauvegardes. Après une première tentative échouée, voici que Meta vient de mettre en place un nouveau système qui semble, cette fois, bien fonctionner. De plus, la liste des jeux compatibles est maintenant énorme par rapport à la petite vingtaine d'avant.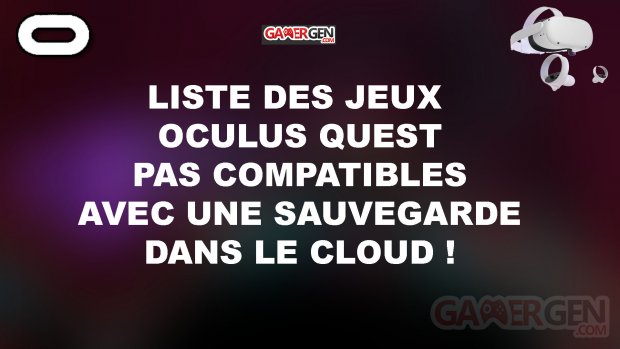 La sauvegarde dans le cloud est maintenant une fonction activée par défaut (normalement) dans le menu des paramètres du casque (Paramètres >Appareil (1)> Sauvegarde dans le cloud (2). Il est possible de la désactiver (3) dans le cas où vous ne voudriez pas protéger vos sauvegardes.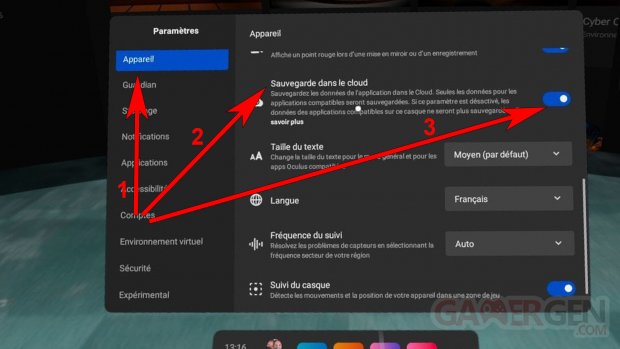 Pour information, il semble que les sauvegardes vers le cloud ne sont pas immédiatement faite après que nous quittions un jeu mais qu'elle soient plutôt faite la nuit quand le casque VR est en veille et branché au courant (comme pour les mises à jour de firmware). Ceci n'est pas une certitude mais après de nombreux essais, et pertes de données, c'est ce que nous en avons conclu. Il est d'ailleurs possible de vérifier si ses sauvegardes sont bien uploadées sur le cloud en allant sur la page dédiée (1) de son espace client en ligne Oculus (il faut être identifié) et en regardant la date et l'heure de son upload (2). Vous pouvez aussi, si le coeur vous en dit supprimer les sauvegardes en ligne (3). Enfin, si jamais un jeu de votre bibliothèque n'est pas compatible, il y aura le mot "Non" devant son nom (colonne "compatible avec les sauvegardes").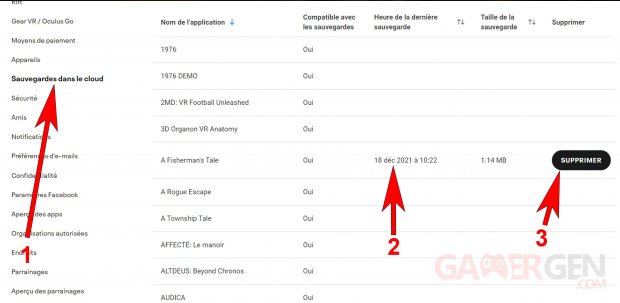 Pour établir cette liste, nous avons actuellement testé 481 applications (la totalité de celles sur le store officiel) et quelques unes issues de l'AppLAb. A minima, nous garderons cette liste à jour avec les jeux officiels sortant chaque semaine.
La liste des applications ayant une sauvegarde dans le cloud au 23 décembre 2021 :
1976 (AppLab)

1976 DEMO (AppLab)

2MD: VR Football Unleashed
3D Organon VR Anatomy (AppLab)
A Fisherman's Tale
A Rogue Escape
A Township Tale
Accounting+
Acron: Attack of the Squirrels!
Adam Savage's Tested VR
AFFECTÉ: Le manoir

After the Fall - Launch Edition
Air Hockey Arcade (AppLab)
Alcove
Alienation (AppLab)
ALTDEUS: Beyond Chronos
AltspaceVR
Ancient Dungeon Beta (AppLab)
Angry Birds VR: Isle of Pigs
Anne Frank House VR
Apex Construct
Apollo 11
Arcaxer (AppLab)
Arcsmith
Arizona Sunshine
Art Plunge (AppLab)
Arthur
AUDICA
Audio Trip
Audioshield
AYAKASHI KITAN
B-Team
Baba Yaga
Baby Hands (AppLab)
Bait!
Ballista
Bard Hero VR (AppLab)
Battle Arena VR (AppLab)
BATTLESCAR: Punk Was Invented By Girls
BEAT ARENA (AppLab)

Beat Blaster (AppLab)
Beat Saber
bHaptics Player
Big Ballers Basketball (AppLab)
Bigscreen Beta
Black Hole Pool (AppLab)
Blade & Sorcery: Nomad
Blair Witch VR: Quest
Blaston
Blobby Tennis (AppLab)
Blueplanet VR Explore
Bogo
Boule Petanque (AppLab)
BOW MAN
BRINK Traveler
Breakout VR
Captain ToonHead vs The Punks from Outer Space
Car Parking Simulator
Carly and the Reaperman
Carroll's Riddles (AppLab)
Carte du Ciel
Carve Snowboarding
Catan VR
Cave Digger
Chess Club
Cirque du Soleil
Clash of Chefs VR
Cloudlands 2
Coaster Combat
Color Space
Contractors
Cook-Out
Cover Drive Cricket Demo (AppLab)
CPR Simulator (AppLab)
Crashland
Crazy Kung Fu (AppLab)
Creed: Rise to Glory
Creed: Rise to Glory - Demo
Crisis VRigade (AppLab)
Crisis VRigade 2 (AppLab)
Cubism
CYBER TENNIS (AppLab)
Daedalus (AppLab)
Dance Central
Dance Central - Demo
Dance Collider (AppLab)
Dash Dash World
David Slade Mysteries: Case Files (AppLab)
Dead and Buried II
Dead Second (AppLab)
Dear Angelica
Death Horizon: Reloaded
Death Lap
Deisim (AppLab)
DeoVR Quest
Descent Alps (AppLab)
Descent Alps - Demo (AppLab)
Disc Ninja
Doctor Who: The Edge Of Time
Don't Upset Bobby
Down the Rabbit Hole
Dreadhalls
Drop Dead: Dual Strike Edition
Drunkn Bar Fight
Échecs
Echo VR
ecosphere

Electronauts
Elixir
End Space
ENGAGE
ENHANCE (AppLab)
Epic Roller Coasters
Escape Legacy (AppLab)
Espire 1: VR Operative
Evryway Visualiser (AppLab)
Face Your Fears 2
Fail Factory!
Falcon Age
Felix & Paul Studios
Feu De Camp
Find My Phone App - The Game (AppLab)
Fitris VR (AppLab)
FitXR - Entraînements de boxe, HIIT et danse
Floor Plan 2
Flow Weaver
ForeVR Bowl
ForeVR Darts
FREEDIVER: Triton Down
Fujii
Gadgeteer
Galaxy Forces VR (AppLab)
Ghost Giant
Gloomy Eyes
Glue
GO CLUBBING (AppLab)
Golf 5 eClub
GOLF+
Goliath: Playing with Reality
Gorilla Tag (AppLab)
GoThru (AppLab)
Gravity Lab
Gravity Sketch
Guardians (AppLab)
Guided Meditation VR
Guided Tai Chi
Gun Club VR
Gun Raiders
Guns'n'Stories: Bulletproof VR
Gym Class (AppLab)
Half + Half
Harvest VR (AppLab)
Henry
Historic Crafts (AppLab)
Holofit by Holodia
Holopoint
Home After War
Homestar VR: Special Edition
HouseFlipper VR
Hyper Dash
I Expect You To Die
I Expect You To Die 2
Immersed
INVASION! Anniversary Edition
Jentrix (AppLab)
Jigsaw 360
Job Simulator
Joueur 22 par Rezzil
Journey of the Gods
Journey of the Gods - Demo
Jurassic World
JUST HOOPS (AppLab)
Keep Talking and Nobody Explodes
Killer Pool Preview (AppLab)
Kingspray Graffiti
Kizuna AI - Touch the Beat!
Knockout League
Laid-Back Camp - Virtual - Lake Motosu (AppLab)
Larcenauts
Last Labyrinth
Layers of Fear VR
Legendary Hunter VR (AppLab)
Lies Beneath
Liminal (AppLab)
Little Witch Academia: VR Broom Racing
LIV Connect
Loco Dojo Unleashed
LoopSpace (AppLab)
Lucky's Tale
Lueur d'Astre Éternel
Luna
MLB VR
MVP Football - The Patrick Mahomes Experience
Madrid Noir
Maloka
Mare
MarineVerse Cup (AppLab)
Match Point Tennis - Free Demo (AppLab)
Medal of Honor™: Above and Beyond
MeetinVR
MelodyVR
METAL MULTIBALL (AppLab)
Mini Motor Racing X
Minsar Studio
Mission: ISS: Quest
Moss
MultiBrush (AppLab)
Multiverse
Myst
Myth: A Frozen Tale
NOTES ON BLINDNESS
National Geographic Explore VR
Nature Treks VR
Netflix
Neverboard
Ninja Legends
Noda
Ocean Rift
OceanCraft (AppLab)
OhShape
Omega Blade (AppLab)
Onward
Open Brush (AppLab)
OrbusVR: Reborn
Pandemic by Prisms (AppLab)
Paper Birds: Part I & II
Paradiddle - Demo (AppLab)
Paranormal Activity: The Lost Soul
Path of the Warrior
Peco Peco (AppLab)
Penn & Teller VR: F U, U, U, & U
PePiBo (AppLab)
Pick-up League Hockey (AppLab)
Pigasus VR Media Player
Pinball FX2 VR
Pistol Whip
Pixel Ripped 1995
Please, Don't Touch Anything
Poker VR - Multi Table Tournaments
PokerStars VR
Pong (AppLab)
Pop's (AppLab)
Premium Bowling
Prime Video VR
Prison Boss VR
Project TERMINUS VR
Puppet Fever
Puzzle Bobble VR: Vacation Odyssey
Puzzle Cafe VR (AppLab)
Puzzling Paths (AppLab)
Puzzling Places
Puzzling Places - Beta (AppLab)
QOR (QuestORama) (AppLab)
Raccoon Lagoon
Racket Fury: Table Tennis VR
Racket: Nx
Radial-G: Proteus
Ragnarock
Rainbow Reactor: Fusion
REAKT Performance Trainer
Realms Of Eternity (AppLab)
Rec Room
Red Bull TV
Red Matter
REFLEX UNIT 2 (AppLab)
Resident Evil 4
Resist
Rhythm of the Universe - Ionia
Richie's Plank Experience
Robo Recall: Unplugged
Rodent People: Origins (AppLab)
RUSH
République VR
Sairento VR : Untethered
Sam and Max: This Time It's Virtual!
SculptrVR
Sep's Diner (AppLab)
Shadow Point
Shadowgate VR: Les Mines de Mythrok
ShapesXR
Shinobi Breaker (AppLab)
Shoottris (AppLab)
Shooty Skies Overdrive
SHOWTIME
Showtime Anytime
Shuttle Commander
Sky Squadron Beta (AppLab)
SKYBOX VR Video Player
Skyworld: Kingdom Brawl
Sling TV
Smartsheet
Smash Drums
Smash Drums Demo (AppLab)
Sniper Elite VR
SOLARIS OFFWORLD COMBAT
Solicitude Wake-up (AppLab)
Song Beater (AppLab)
Song in the Smoke
Space Explorers
Space Pirate Trainer - Demo
Space Pirate Trainer DX
Space Shooter (AppLab)
Spacefolk City
Spaceteam VR
Spatial
Speed Cube (AppLab)
Sphere Toon - VR Comic
SPHERES
Spice & Wolf VR
Spike Email - Mail & Team Chat
Sports Scramble
Sports Scramble – Demo
St. Jude Hall of Heroes
Stack Defense (AppLab)
Star Shaman
Star Trek: Bridge Crew
Star Wars: Tales from the Galaxy's Edge
Star WarsPinball VR
Stones Of Harlath
SUPERHOT VR ( jeu) - Cloud-savin in-game
SUPERHOT VR - Demo
Supernatural
Swarm
Sweet Surrender
SWORDS of GARGANTUA
Synth Riders
Synth Riders Demo (AppLab)
Tarzan VR
Tennis League VR - Early access demo (AppLab)
Tetris Effect: Connected
The Climb
The Climb 2
The Curious Tale of the Stolen Pets
The Exorcist: Legion VR
The Fight (AppLab)
The Final Overs (AppLab)
The Great Escape: Dragon's Dungeon (AppLab)
The Key
The Line
The Premium Cube (AppLab)
The Room VR: A Dark Matter
The Secret of Retropolis
The Thrill of the Fight
The Under Presents
The Walking Dead: Saints & Sinners
The Wizards
The Wizards - Dark Times
Tilt Brush
Time Stall
Titans of Space +
TOKYO CHRONOS
TOTALLY BASEBALL
Touring Karts (AppLab)
Touring Karts PRO (AppLab)
Traffic Jams
Traveling While Black
traVRsal

Tribe XR | DJ in VR
TripeaksDreamland VR (AppLab)
TRIPP
Trover Saves the Universe
Tsuro - Le Jeu du Sentier
Ultrawings
Unplugged: Air Guitar
Unstung
Until You Fall
V-Speedway Alpha (AppLab)
vSpatial
vTime XR
Vacation Simulator
Vader Immortal: Episode I
Vader Immortal: Episode II
Vader Immortal: Episode III
Vanishing Grace
VARK
Ven VR Adventure
Villa: Immersive Workforce Collaboration Platform
Virtual Virtual Reality
VirtualSpeech (AppLab)
Virtuoso (AppLab)
Virus Popper (AppLab)
Void Racer: Extreme
VR Blast (AppLab)
VR Karts: Sprint
VRChat
Walkabout Mini Golf
Waltz of the Wizard: Natural Magic
Wander
Wands
War Yards Beta (AppLab)
Warhammer 40,000: Battle Sister
Warplanes: WW1 Fighters
We Live Here
Where Thoughts Go
Wind Wind (AppLab)
Within
Wolves in the Walls
Wonderglade
Wraith: The Oblivion - Afterlife
X-Fitness (AppLab)
X-Fitness DEMO (AppLab)
YouTube VR
Yupitergrad
Z-Race Demo (AppLab)
Zero Caliber: Reloaded
Zoe (AppLab)
ZomB Run (AppLab)
Zombieland: Headshot Fever
ZOOKEEPER : Blast Quest
Zooma: Deluxe Edition (AppLab)
La liste des applications n'ayant pas une sauvegarde dans le cloud (23 décembre 2021) est à la page suivante.
Nous avons aussi répertorié tous les jeux en français disponibles sur l'Oculus Store ici et tous les jeux cross-buy ici (version PC offerte avec l'achat de la version Quest, ou l'inverse). L'Oculus Quest 2 est disponible chez les partenaires officiels de la marque qui sont la Fnac, Darty, Boulanger et Amazon. Vous pouvez aussi suivre notre chaîne YouTube qui en parle régulièrement.

Fondateur - Directeur de publication
Eric de Brocart
Magicien professionnel, quand je ne suis pas derrière mon PC, photographe amateur, quand j'ai le temps et surtout un grand passionné de réalité virtuelle.
Me suivre :