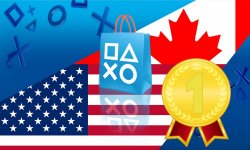 PlayStation Store : les tops du top nord-américains (novembre 2013)
par Martial Duchemin
Call of dans les parages.
Il est temps de jeter un œil sur le PlayStation Store nord-américain concernant les meilleures ventes du mois dernier, novembre 2013. Comme nous, les joueurs de l'Ouest ont pu jouir de la nouvelle PlayStation 4. Bien évidemment, la belle expose plusieurs de ses titres ici.
Call of Duty:Ghosts prend donc la tête avec Flower. Sur PlayStation 3, idem, Call of, pour les intimes, monte sur la première marche du podium. Du côté des portables, nous avons du Tearaway sur PlayStation Vita et du Ys: Seven sur PSP.
Concernant les classiques, c'est un jeu d'horreur à la sauce nippone qui brandit la médaille d'or, Fatal Frame II: Crimson Butterfly.
Jeux PS4 avec mises à niveau numériques
Jeux PS4 sans mises à niveau numériques
1 - Call of Duty: Ghosts
2 - Battlefield 4
3 - Assassin's Creed IV: Black Flag
4 - Flower
5 - Need for Speed: Rivals
6 - NBA 2K14
7 - Killzone: Shadow Fall
8 - Madden NFL 25
9 - Trine 2: Complete Story
10 - EA SPORTS FIFA 14
11 - Sound Shapes PS4
12 - Injustice: Gods Among Us Ultimate Edition
13 - LEGO Marvel Super Heroes
14 - Knack
15 - Super Motherload
16 - RESOGUN
17 - Just Dance 2014
18 - EA SPORTS NBA LIVE 14
19 - Contrast
20 - Angry Birds Star Wars
1 - Flower
2 - Need for Speed: Rivals
3 - Battlefield 4
4 - NBA 2K14
5 - Assassin's Creed IV: Black Flag
6 - Call of Duty: Ghosts
7 - Killzone: Shadow Fall
8 - Madden NFL 25
9 - Trine 2: Complete Story
10 - EA SPORTS FIFA 14
11 - Sound Shapes PS4
12 - LEGO Marvel Super Heroes
13 - Knack
14 - Injustice: Gods Among Us Ultimate Edition
15 - Super Motherload
16 - RESOGUN
17 - Just Dance 2014
18 - EA SPORTS NBA LIVE 14
19 - Contrast
20 - Angry Birds Star Wars
Jeux PS3
Contenu Supplémentair PS3
1 - Call of Duty: Ghosts
2 - Battlefield 4
3 - Grand Theft Auto V
4 - NBA 2K14
5 - Assassin's Creed IV Black Flag
6 - I Am Alive
7 - BioShock Infinite
8 - Ratchet & Clank: Into the Nexus
9 - Call of Juarez Gunslinger
10 - Castlevania: Lords of Shadow – Mirror of Fate HD
11 - Diablo III
12 - NBA 2K14
13 - How to Survive
14 - Beyond Good & Evil HD
14 - Batman: Arkham Origins
15 - inFAMOUS Festival of Blood
16 - The Wolf Among Us – Episode 1: Faith
18 - WWE 2K14
19 - Need for Speed Rivals
20 - SOULCALIBUR II HD ONLINE
1 - Call of Duty: Black Ops II Apocalypse
2 - Call of Duty: Ghosts Season Pass
3 - Battlefield 4 Premium
4 - AC IV Black Flag Time saver: Technology Pack
5 - AC IV Black Flag Time saver: Resources Pack
6 - WWE 2K14 Season Pass
7 - AC IV Black Flag Death Vessel Pack
8 - Call of Duty: Black Ops II Vengeance
9 - Call of Duty: Black Ops II Nuketown Zombies Map
10 - AC IV Black Flag Time saver: Collectibles Pack
Jeux PSVita
Jeux PSOne / PS2
1 - Tearaway
2 - Ys: Memories of Celceta
3 - Injustice: Gods Among Us Ultimate Edition
4 - CastleStorm
5 - Killzone: Mercenary
6 - Persona 4 Golden
7 - Real Boxing
8 - Guacamelee!
9 - ULTIMATE MARVEL VS. CAPCOM 3
10 - Need for Speed Most Wanted
1 - Fatal Frame II: Crimson Butterfly
2 - Fatal Frame
3 - Metal Gear Solid (PS3/PSP)
4 - FINAL FANTASY VII (PS3/PSP/PS Vita)
5 - Grand Theft Auto: San Andreas
6 - Crash Bandicoot (PS3/PSP)
7 - FINAL FANTASY IX (PS3/PSP/PS Vita)
8 - Bully
9 - FINAL FANTASY VIII (PS3/PSP/PS Vita)
10 - Shin Megami Tensei: Persona 3 FES
Jeux PlayStation Mobile
Jeux PSP
1 - Sola Radio
2 - Beats Trellis
3 - Bloodred Wyvern
4 - Cytus Lambda
5 - Scientific Electronic Calculator
1 - YS: SEVEN
2 - Shin Megami Tensei: Persona 3 Portable
3 - Star Wars: Battlefront II
4 - Ys: The Oath in Felghana
5 - Grand Theft Auto: Vice City Stories